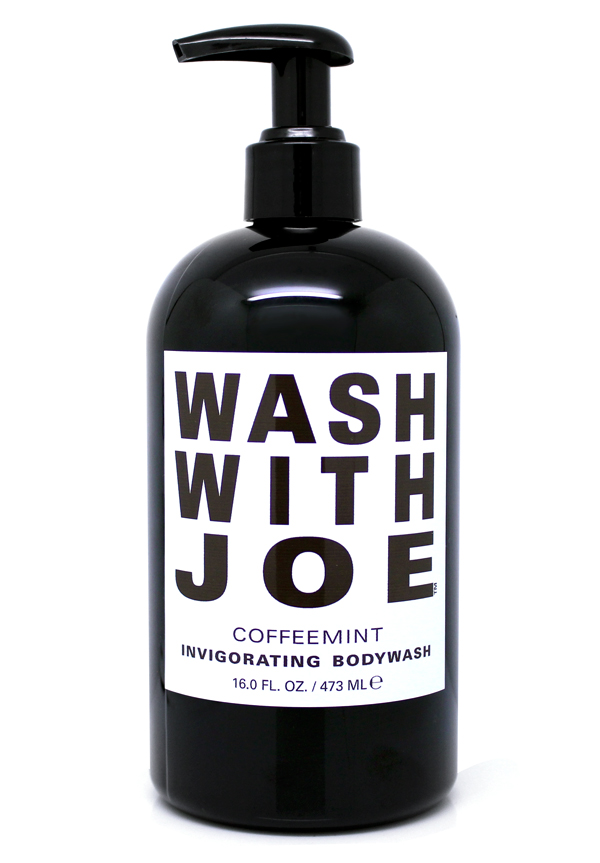 Coffee is well known to give the body antioxidants when you drink it, but here is another great way to utilize the antioxidents in coffee, take a bath with coffee!
Coffee Mint Body Wash
by Wash With Joe is a invigorating body wash where the #1 ingredient is Coffee!
We just thought this was too cool and had to share!

From the Wash with Joe Site:
PROVEN SKIN CARE TECHNOLOGY TO THE BATH & SHOWER

DID YOU KNOW THAT COFFEE IS AN AMAZING HEALTH & BEAUTY AID?
IN FACT, IT MAY DO MORE FOR YOUR OUTSIDES THAN IT DOES FOR YOUR INSIDES!

GOOD FOR YOUR SKIN
Coffee with caffeine has both anti-inflammatory and tightening and firming qualities. For years, caffeine has been used in to reduce cellulite because it dehydrates fat cells; skin on buttocks and thighs become smoother.

GOOD FOR YOU – THE NEXT BIG ANTIOXIDANT
Coffee with caffeine is starting to get lots of attention for its antioxidant properties when used topically. In fact, research suggests that topical caffeine may offer powerful anti-carcinogenic benefits and repair UV damage - it may be a stronger antioxidant than green tea.

BALANCING
WASH WITH JOE™ gives you an invigorating jumpstart to your day. The uplifting blend of pure coffee and triple distilled peppermint essential oil helps revitalize body and mind. A richly foaming body wash, this re-charging formulation leaves you superbly refreshed and clean. Coffee is a natural deodorizer that absorbs odors, which makes this an effective body wash for people with active lifestyles.

UNISEX
WASH WITH JOE™ is unisex, perfectly suited for both men and women

INGREDIENTS
Coffea Arabica (Coffee),Cocamidopropyl Betaine, Sodium Laureth Sulfate, Sodium Lauryl Sulfate, Kosher Vegetable Glycerin, Phenoxyethanol, Calcium d-Pantothenate (Pro-Vitamin B5), Limnanthes alba (Meadowfoam) Seed Oil, Tetrasodium EDTA, Citric Acid, triple Distilled Peppermint Essential Oil

WASH WITH JOE™ is Paraben Free, Certified Vegan and never tested on animals

MADE IN USA"